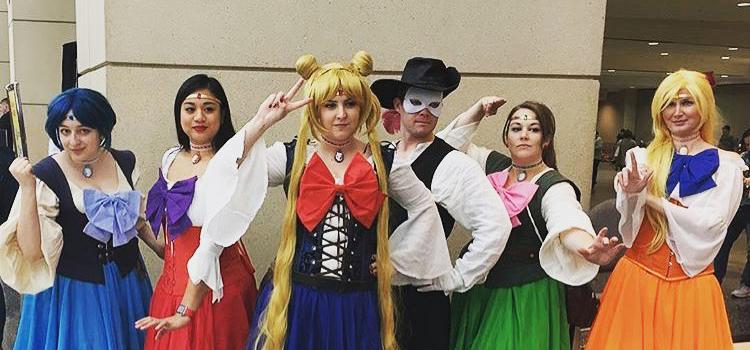 Super Cool People: Geek Girl Pen Pals
I've been casually stalking Geek Girl Pen Pals for a while now. I love everything they stand for (where geeks + snail mail collide), and I seek out their staff at every convention I can. I'm so very excited to introduce you to the IGGLE team.
Where did the idea for Geek Girl Pen Pals come from?
Stewie: Emily and I became fast friends over 3 years ago, when we were working together on a custom piece of jewelry from her Etsy store. One thing led to another, once we bonded over our love of nerdy things, Spice Girls, and candy from each other's respective countries (England and the USA). We jokingly discussed how cool it would be to hook up other nerdy ladies from across the globe, and the International Geek Girl Pen Pals Club was born! Seriously though, it did come from a strong desire for Curly Wurlies! The best of candy from the UK :)
Who else is on the GGPP team with you?
Stewie: Our gorgeous staff is 8 people deep now, but so many people have come in and out and help us out on the daily. We're not only our staff, but our Prefects, Activity Leaders, and so many more Iggles who just spread the word! You can find out all about us on our staff page or find out who is chattering about us by Twitter using #IGGPPC.
Jen: It was so exciting and a little overwhelming coming on as a staff member. There were only 3 staff members at the time and no website; it was just pen pal registration and pairing. Then things took off quick - a website, forum, giveaways. It was the best rollercoaster to hop onto.
Can you tell us a bit more about GGPP and how someone interested can get involved?
Joanna: GGPP is a really large and ever evolving beast, but I'd say the best way to get involved is to choose one thing you want to explore and really dive in. We've got swaps, activities, challenges, Twitter groups, and of course pen pal rounds for folks to get involved. And be persistent! Sometimes it takes a few tries to find your perfect pen pal.
What has surprised you the most about being involved with GGPP?
Summer: All the amazing people I've gotten to know! I found out about the club during an emotionally rough period for me, and joined to find a little spark of something new. I just thought I'd find a pen pal, but what I didn't expect was an amazing community of supportive and amazing ladies and gentlemen who have brought so much joy to my life.
Joanna: What surprised me most about GGPP was both how much we all have in common but also how diverse we are! I can find common ground with a huge number of different people and it's opened my own experience up to a wider world. But I think the most surprising thing of all is how many people really embrace snail mail. It's like this amazing tangible expression of thought that connects you in a really special way with another person. I know I get full of warm fuzzies when I find a note in my mailbox!
Jen: The love and support that you can find from people around the world. My favourite thing is watching members communicate on social media and the forums with one another. I'm in awe at the support, understanding and friendship they provide each other when they've never even met in real life.
Who would win a fight between Squirrel Girl and Captain Marvel?
Summer: Squirrel Girl! She's UNBEATABLE! But she'd totally win that fight through friendship. I think they would end up going out for milkshakes afterwards.
What do you nerd out on the most?
Joanna: I nerd out the most over ways I can bring my geek loves into my daily life. Home goods, jewelry, themed teas, cute clothes, anything that's a subtle but fun way to celebrate what I love. And Harry Potter. A lot of Harry Potter.
What's your favorite show to binge watch?
Jen: Veronica Mars, Gilmore Girls, Supernatural, and Scrubs.
Where do you like to hang out online / where can we find you?
Find us at geekgirlpenpals.com, on Twitter, on Facebook, on Instagram, on YouTube, using #IGGPPC everywhere, and probably in your mailbox. :)


Head over to
 

Geek Girl Pen Pals

 

to find your perfect snail mail buddy!

Want to meet more of our favorite people? Our list is constantly growing!