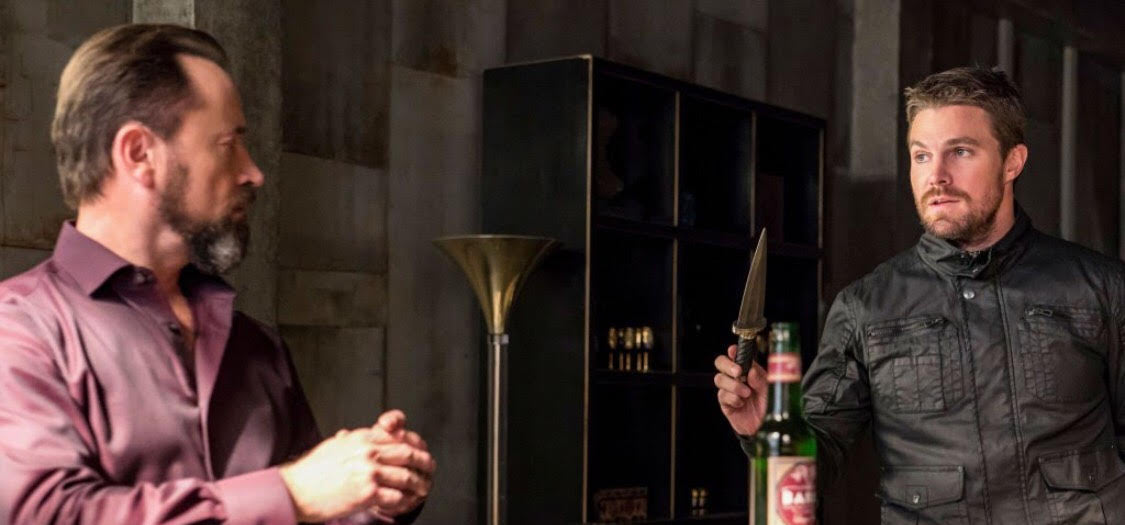 Arrow Recap | Shifting Allegiances
Spoilers Ahead!
This week's episode of Arrow focused on a couple of things.
Oliver was very convinced that he could sway Anatoly into working with him to take down Diaz and it did not go well. Anatoly delivers Oliver to Diaz, Diaz challenges him to a brutal fight where the loser would have to leave Star City. Diaz cheats and stabs Oliver. Anatoly seems to have a change of heart and wants to help Oliver escape, but at the end of the episode Diaz reveals that Oliver's trial will happen soon and bail has been revoked. He is now facing life in prison.
Dinah, Curtis, Rene (back with the team) and Diggle with help from ARGUS spend the entire episode trying to stop The Quadrant from obtaining an arsenal of guns. Diaz is, of course, working with The Quadrant. They become successful with this mission, but we find out that Rene is dealing with PTSD and decides to stay away from the team for the time being as he manages it. We also find out that his daughter knows they all fight crime and is okay with it.
Curtis extends an invitation to Diggle to join their team but Diggle refuses and wants to remain with ARGUS. However, he agrees to help them out and work with them occasionally if they need help or he does.
Black Siren manages to get Quentin to sign a paper letting Diaz own a specific property. During this process, Black Siren reveals how afraid of Diaz she is and tries to protect Quentin by telling him to sign the paper. He does. Quentin then tells Black Siren he will protect her and she agrees to protect him.
Next week, it seems like we will see the trial and also the return of another Tommy. He might be revealing himself to be Arrow. Laurel will be put on the stand to testify.
Are you guys enjoying these last few episodes? Let us know in the comments section below!
 
---

Karin Abcarians
Karin Abcarians is a journalist, a tv show junkie, movie junkie, an avid book lover, and a dog lover with a dog named after Dexter Morgan from the show Dexter. The Nightmare Before Christmas is the greatest film ever made in her opinion. She has a milk allergy and lives life on the edge because just about everything on earth has milk. She has a superhero alter ego called BatKarin. She lives in California and is currently a college student, attending California State University Northridge, and will be graduating in May of 2018 with a Bachelors in Journalism.